Community Involvement
We appreciate the importance of our communities and like to support them where we can. Here are some examples..
Union County Veterans' Parade Fourth of July Celebration
On Saturday, June 29, 2019, on our Union County Industrial Railroad, we were happy to once again donate train rides in conjunction with the Union County Veteran's 4th of July Parade.
Two (one at 1pm and one at 3pm) one-hour round trips departed from Hufnagle Park, in Lewisburg, PA, and traveled south along the Susquehanna River to Winfield, PA, before they returned to the park.
We took this opportunity to teach the kids on-board about railroad safety. It was a beautiful day and a lot of fun (despite a little bit of rain).
We donated 100% of the fuel, switching, crews, and equipment-use for the train rides. Both trips were sold out; the parade committee was able to utilize 100% of all proceeds to help cover parade expenses.
For more information about the parade and its many events, please visit the parade's website.
Toys for Tots
This year was the most successful US Marine Corp Reserve Toys for Tots drive we have hosted in the past 15 years. We collected toys in our Northumberland office and concluded the drive with the North American Railcar Operators Association (NARCOA) motorcar train - which ran from Northumberland to Berwick and returned. Families waited along the railroad tracks to make donations.
We are elated to report that more than $2,300 in donations and more than 1,100 toys/books/games were collected in the drive!
The success of this event wouldn't be possible without the efforts of Larry Maynard (from Central PA Excursions), NARCOA, and the MANY generous families who came out and contributed.
Thank you to all!!
Bellefonte Victorian Christmas
For the fifth consecutive year, we were honored to be the Corporate Sponsor of the Bellefonte Victorian Christmas celebration.
Learn more about this family-friendly, activity-packed event at their awesome, new website.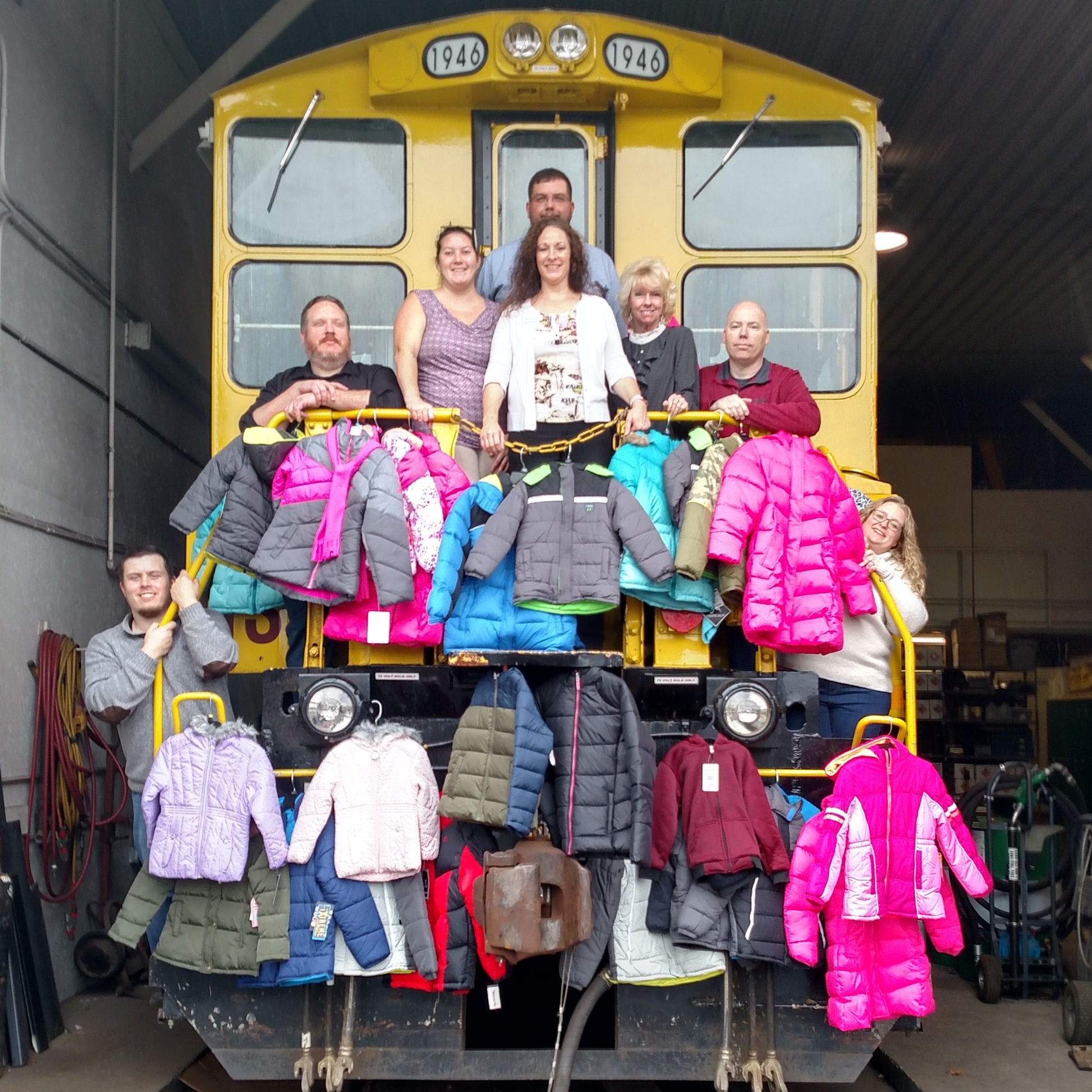 Sunbury YMCA Coat Drive
Each year, our Northumberland office participates in the Sunbury YMCA's coat drive - collecting new and gently-used coats. This drive offers coats (free of charge) to local families who have a difficult time affording them.
Our employees focused on the donation of children's coats, which is the greatest need every year. Employees went above and beyond to donate to this cause - helping local kids stay warm this winter.
Joint Legislative Breakfast
The Greater Susquehanna Valley Chamber of Commerce (GSVCC) and Central PA Chamber of Commerce host the Joint Legislative Breakfasts at the Country Cupboard in Lewisburg, PA. In November, we served as the GSVCC's sponsor for the event, educating the attendees about our company and encouraging them to support local manufacturers.
Trail of Treats
We were happy to have employees participate in WNEP-TV's Trail of Treats for the second year.
Our group consisted of Avengers Hulk and Thor, who were joined by two of the three Hocus Pocus witches. They handed out treats to about 500 special needs trick-or-treaters from our area, in a safe environment at the Best Western Plus/Country Cupboard in Lewisburg, PA.
You can learn more about this wonderful event at www.wnep.com.
American Society of Civil Engineers
Todd Hunter introduced keynote speaker, John Conrad, PE, at the October monthly meeting of the American Society of Civil Engineers - Central Pennsylvania Section for a presentation on the Loyalsock Creek Bridge Replacement Project.
The meeting was hosted by Pennsylvania College of Technology in Williamsport, PA.
Freedom Bike Ride
We have been happy to sponsor the Freedom Bike Ride for six years running.
This annual bicycle ride raises awareness and support for our military troops (past and present) and honors Gold Star Families from all military conflicts and wars.
The Freedom Bike Ride travels through areas of Central Pennsylvania and the Susquehanna Valley and covers approximately 300 miles over four days of riding.
We look forward to helping fuel them again next year! - Great job, guys!!
Railroad Safety Education: Preschool
It is important to educate youth on railroad safety. So, as often as we can, we like to get out and educate kids.
In October of 2017, a preschool in Danville welcomed our PR & Media Manager, Loni Briner, to speak to its students about railroad safety - an opportunity we will always gladly take. Each student made a promise to share the facts that being on railroad tracks is 1) DANGEROUS and 2) ILLEGAL! The kids did a great job with their crafts to serve as a reminder to stay off tracks.
Railroad Safety Education: Lm Elementary School
The Line Mountain Elementary School held a Vehicular Career Day on September 20, 2017. Since We couldn't exactly run a train to Trevorton, we took this opportunity to educate Kindergarten through Fourth grade students about railroad safety.
We also participated in 2017 #USRailSafetyWeek, hosted by Operation Lifesaver, September 24th-30th. See Tracks? THINK TRAIN!
Photo by Ron Schmick of Schmick Photography
Argentina Delegation
On August 29th, in conjunction with Penn State University (PSU) Cooperative Extension, we hosted a delegation of Argentinian "Provincial" officials (including an Argentinian Federal Representative).
The group was touring the area and observing Marcellus related developments. Our visit was arranged by Tom Murphy of PSU and we were joined by Roy Blanchard of the Blanchard Company. PSU provided an interpreter to translate our Director of Marketing, Todd Hunter's presentation to Spanish.
Argentina is a country of very strong unions - especially in trucking, and it has a very weak and under maintained government rail system. The country has large deposits of shale gas and development is just starting there.
Railroad Safety Education: Cub Scout Day Camp
On July 13, 2017, we were glad to be able to represent our railroad at Cub Scout Day Camp at the Shikellamy State Park Marina, in Sunbury.
The opportunity for us to be there and teach young people about railroading and railroad safety was the perfect fit since the camp's theme was: "Planes, Trains & Automobiles." Cub Scouts from ALL OVER Pennsylvania attended the camp.
We are not sure who enjoyed our time there more: the kids or us..
Milton Bicentennial Train Rides
This year marks Milton, PA's 200th birthday! To kick-off their celebration week, we hosted train rides on our Union County Industrial Railroad on June 10th.
These special, rare-mileage, round-trip train rides departed from the ConAgra Brands plant, in Milton, and traveled north on former Reading Railroad lines, over the Susquehanna River, towards New Columbia, and returned to ConAgra. This was the first time since 1964 that passengers were afforded the opportunity to travel on this rail line, making it a unique experience.
Everyone had a wonderful time and we were so pleased to be able to be such an integral part of the Milton Bicentennial celebrations!
Railroad Education: Bald Eagle Area School
On October 12, 2016, We teamed up with the Bellefonte Historical Railroad Society to educate students from Bald Eagle Area School District about the history and current-day operation of Nittany & Bald Eagle Railroad.
The students were eager for this visit, since they had already constructed railroad posters to display at Steamtown in Scranton. These posters will join others in becoming part of a wrap that will cover a replica of NASA's Mars Dream Rocket!
We really enjoyed meeting the students and love the work they've done.
Railroad Education: Susquehanna University
On April 7, 2016, our Public Relations & Media Manager, Loni Martz Briner gave a 90-minute lecture to 50 Susquehanna University students about our railroads and the importance/basics of branding, public relations, and integrated marketing.